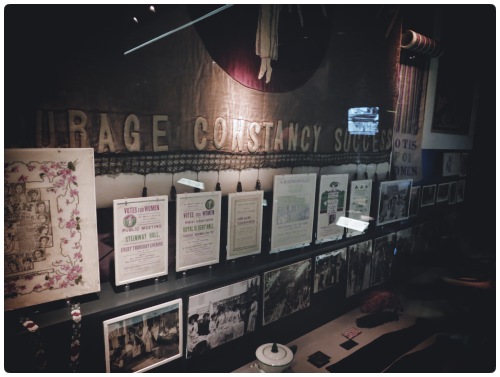 On Friday night, I got sucked into watching the National History Bee on , wait for it… the History Channel. Despite Al Roker's terrible job as an Alex Trebek wannabe, my love of obscure trivia kept me watching as middle school students answered question after question.
But the entire time I watched, something nagged at me.
You see, the sixteen finalists were all boys. Not a girl in the bunch.
Part of me was infuriated. Are no girls interested in history?!? What is going on here? Where were the smart, sassy girls? (Where was my twelve-year-old self?)
I immediately wondered if I should call up Sarah Vowell to start a campaign to get more girls interested in history.
But another part of me felt conflicted. Even though I love certain History Channel shows (I'm lookin' at you, American Pickers), I can't help but notice how exceedingly male oriented the History Channel is. From the programming to the commercials, the History Channel seems to be screaming, "History is for the men." (In a deep, booming voice, no less.)
Which is where my conflict comes in. I want girls and women to be interested in history. But do I really want them to be interested in history when most versions of history are told from a fairly male point of view?
As I listened to the questions in the History Bee, I tried to notice what proportion were related to or about women. While I don't have any hard numbers, it was certainly less than half.
And then suddenly, I was conflicted again. By specifically looking for questions about women, wasn't I being just as biased towards my own gender's telling of history?
My head was spinning with questions.
Should we be trying to get girls more interested in history? Or should we be trying to get girls interested in telling our own versions of history? Or should we try for a happy medium? (Or perhaps, am I making too big a deal out of nothing?)
I don't have any answers. But I do keep coming back to my recent trip to the Museum of London. This little gem of a museum told the history of the city in perhaps the most unbiased way I've ever seen. Presented chronologically, stories of conquest and war mixed with domestic objects and scenes from everyday life throughout the ages. I left feeling like I had a better understanding of the major milestones in London's history while also getting a sense of what it might have been like to live through any of the time periods. In short, it felt complete.
I guess this is what I really want. A version of history that is meant to engage everyone, where stories of war and politics don't overshadow the everyday realities of life. Where every day objects are held in as much reverence as royal artifacts and the stories that are told reflect everyone who lived them, not just the men. Where history is told as a series of engaging stories, not just a timeline of war and power.
Maybe I should give Sarah Vowell a call.
{Image taken by me of a women's suffrage display at the Museum of London.}