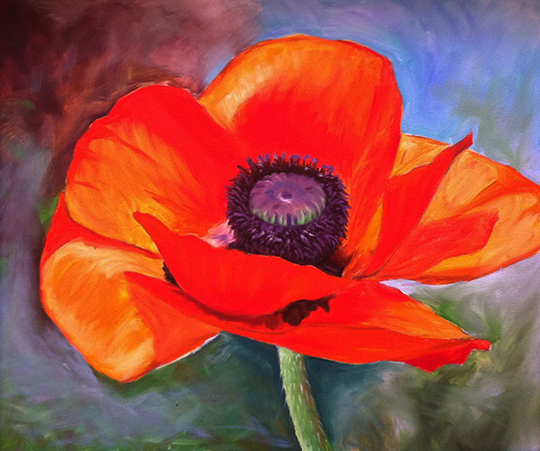 A painting of a poppy I made in high school.
One of the biggest challenges to starting to paint again is reconciling the painter I was fifteen years ago with the artist and designer I am now.
Technique, I'm learning, is a lot like riding a bike. I was a little shaky at first, but I'm starting to reclaim the balance, the movement, the momentum.
The challenge is not how to paint, but what to paint.
I don't remember this being such a struggle when I used to paint. As a high school student, I felt confident in my subject choices. I rarely worked from other people's photographs or images in books (that would have been cheating, and wrong) but often worked from photos I took – people, scenes from my family's travels, flowers – these formed the main subject matter for my work. As I sought out new art classes, I began painting more of the human figure from life. (Always a favorite drawing subject.)
But in the subsequent years since I stopped painting, two things happened: I received two degrees in art. And I built a strong visual brand around my voice as a designer.
So now, my painting is burdened by what I know about the history of modern (and post-modern) art, who I am (and who I try to project myself to be) as a designer, and, to further complicate things, thoughts of honoring my mom (and the artist she was) through painting.
Fortunately, I've been around the block long enough in terms of the creative process to understand that the only way to work through these issues is to go to my studio and make something.
The only real way to find my voice when it comes to painting is to paint.
Of course, this is easier said than done.
Because, what should I be painting is still a nagging question. Do try to pick up with the style and subject matter where I left off? Should I be painting abstracts and not things? What kind of painter do I want to be? And how does this fit with the designer I am?
When I first picked up my paintbrush again, I simply started with abstracts. With putting paint on canvas. And while this was cathartic, the results didn't all feel like me.
At the suggestion of my friend Brigitte, I signed up for an online painting class.
The first week of the class, our homework was simply to gather inspiration. Since Joe and I were traveling in Oregon that week, I spent the week taking lots of photos of the landscape (and, as usual, pinning things on Pinterest). For my three paintings for the class, I decided to work from photos that I took.
This feels like more of a return to the painter I once was, but a good place to start. (After all, why pretend the painter I was didn't exist in the quest to figure out what kind of painter I will be?)
There's also something to be said for working on something for a class. It removes the pressure of working on something that has to go out into the world as part of my brand.
With the freedom to play, I'm hoping to begin finding my voice again.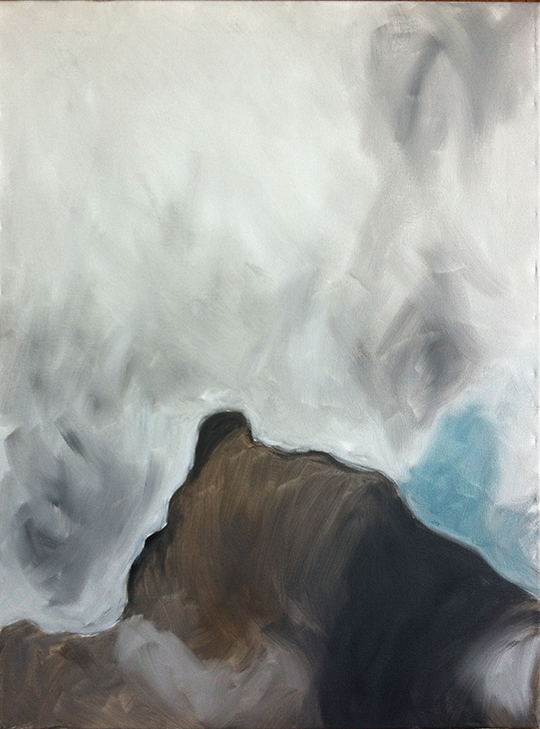 The first layer of one of my paintings for the course I'm taking. Based on an image of snow (in July!) on Mt. Hood