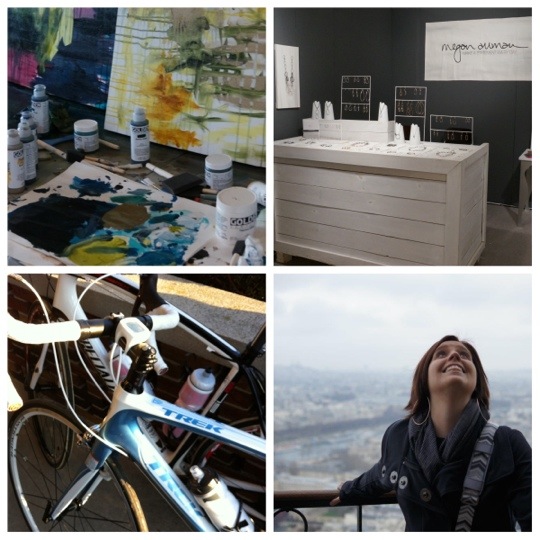 I really didn't set any goals for 2012, I think because, deep down, I knew it was going to be a rough year. But I'm the kind of person who thrives on goals, so, inspired by this post, I sat down yesterday and came up with four goals for 2013.
All of these goals feel really right to me, and they reflect the things I'd like to spend my time on in 2013.
Goal 1: Create a hundred paintings. Coming back to painting was a huge saving grace for me in 2012, but its also created some conflict as I tried to imagine how painting fits into my existing creative practice and business. Setting this goal gives me permission and motivation to paint, learn, push myself, improve, and see where painting takes me.
Goal 2: Hit $200k in my business. I didn't have a sales goal for 2012, but I was happy to see that the business grew, even with all my time off. Now I've come to understand that setting a sales goal motivates me to use my business to create an ideal life for myself. Hitting this goal means continuing to grow my wholesale business, adding new jewelry to the line, and creating some new programs for Designing an MBA.
Goal 3: Bike a century. A century is 100 miles, and this is the year I'm going to do it! (My previous long ride is 66 miles.) I really didn't bike a lot in 2012, and it's definitely something I've been missing. When it comes to fitness, I really need a big goal to keep me motivated, and this is one I can get excited about. Plus, since I've gotten both my husband and mother-in-law into cycling, it's a goal I can share with others.
Goal 4: Visit four new countries. This was actually the only goal I had for 2012, and I fell just a little short. (I hit three – England, France, and Australia.) Of my 2013 goals, this should be the easiest, as I've got my eye on a four country Europe trip in March. (Hopefully, Italy, Germany, Austria, and the Czech Republic.) One of the things I learned in 2012 was that traveling in the second half of the year is tough (that's the busy season for the jewelry biz) so if I want to hit this goal, I've got to knock it out early.
So those are my four big goals for 2013. I feel really good about all of them, and I actually have a second BHAG (that's Big Hairy Audacious Goal) for each of the first three. But I'm keeping those to myself for now.
How about you? What are your 2013 goals?