I went to college in the early 2000s, when it was totally cool to make mix CDs. (This was between the eras of mix tapes and iPod playlists.)
Most of my mix CDs were labeled simply with the date I created them. A record not of any theme, but of my likes at a brief moment of time.
I remember one such CD, dated April 2002, the month my grandfather died. It was a yellow CD, and in my head, that was what I called it. "The Yellow CD." As if it were a real album.
In this case, yellow was the color of my sadness, and the songs reflected my grief as I processed my first real experience of the death of a loved one.
Creating mix CDs was a habit my mother and I shared. Music was always important to her, and to us growing up, but once she learned to work a CD burner, music became a powerful tool for expression. Mix CDs were used to commemorate milestones, express an opinion, or share her feelings with someone.
A few months after my mom's death, I pulled out many of the mix CDs she had made me, opened a beer, and sat on the floor of our guest room, crying and laughing my way through these precious gifts from my mother.
Music has this incredible power to transport us back to another time and place.
I was sitting in a Starbucks the other day when "Across the Universe" started to play. Suddenly, I was transported back to my college apartment, lying on my bed, listening to The Yellow CD in the weeks following my grandfather's death.
I could see that yellow CD, as brilliantly as if it had jumped off the yellow page (don't you love synchronicity) that was open in the book I was reading.
But as I listened to that song, I was also transported forward. I could see a painting so clearly in my mind. Yellow as the color of my grief. A whole universe of emotion, contained on one canvas.
And so I went home and started to paint: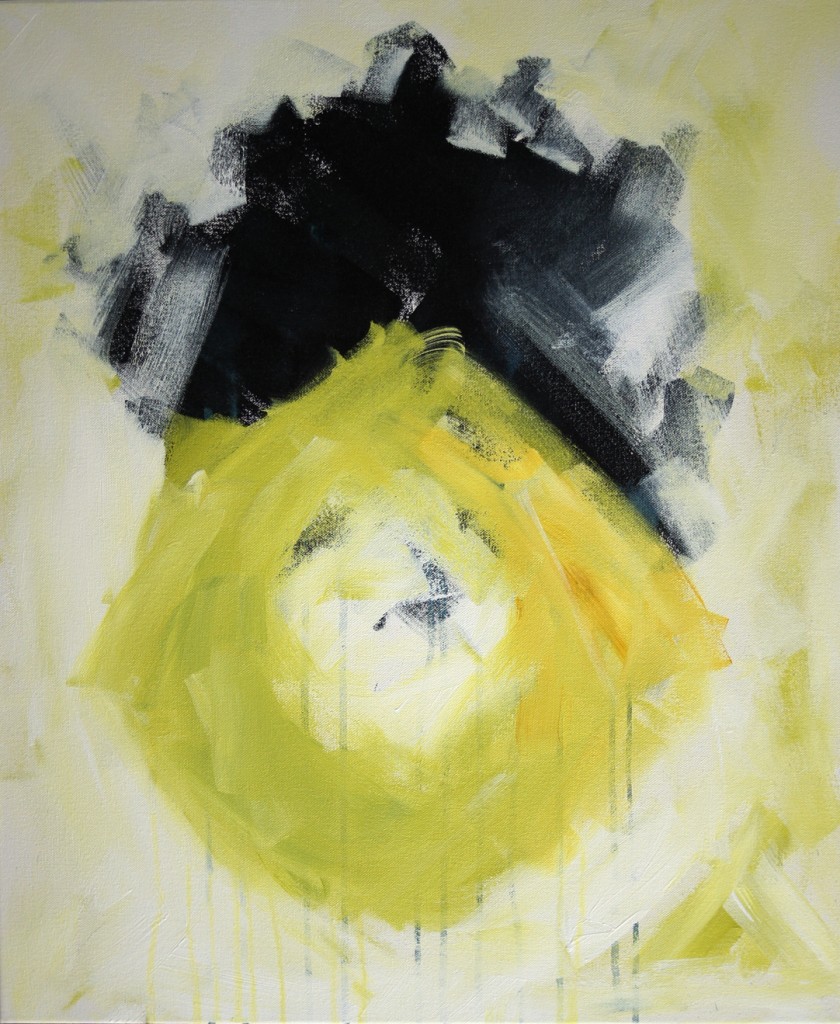 "Across the Universe"
Acrylic on canvas
20″ x 24″