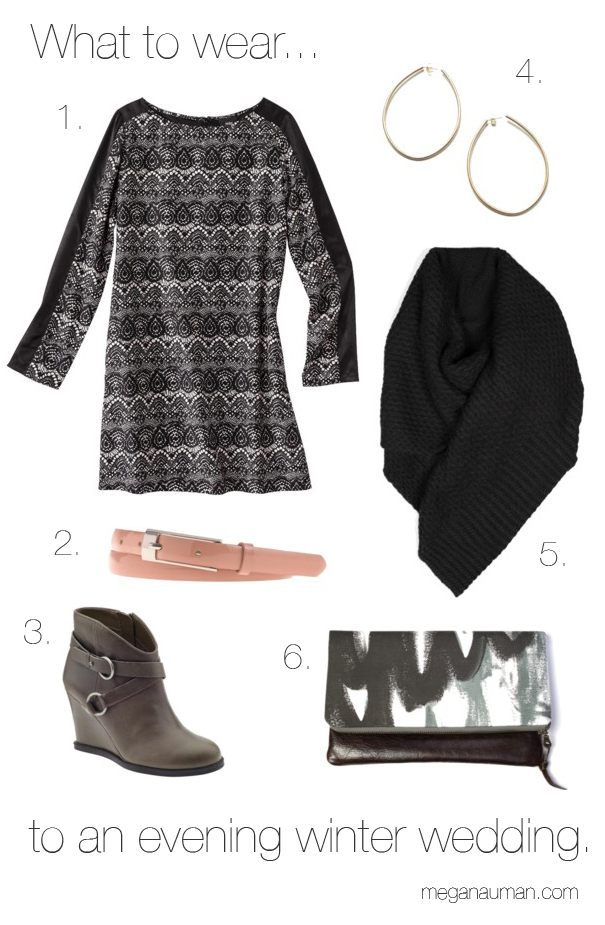 In the past year, I've been to not one, but three winter weddings. (At the most recent one, it even snowed as we were leaving the reception.)
Winter weddings require you to strike a balance between dressing up and staying warm. (Let's leave freezing for fashion to the 20-somethings.)
This outfit totally strikes that balance in a way that helps you stand out (without pulling focus from the bride.)
1. This lace print in blush and black breaks up a simple silhouette and the long sleeves are perfect for cooler weather. Pair it with black tights for a sleek look that keeps you toasty. Shift dress.
2. A skinny belt adds a little pop and can help define your waste and keep the dress from looking too shapeless. Skinny belt.
3. Booties are a great cold weather alternative to a more open shoe and the wedges are comfortable enough for late night dancing. (Or walking outside in less than lovely weather.) Wedge booties.
4. With so much pattern on the dress, it's best to stick with simple, but impactfull jewelry, like these hoops. They're basic enough not to compete, but bold enough to not get lost. Droplet hoops.
5. A black shawl is the perfect alternative to a jacket. You can drape it around your shoulders to keep warm or loop it like a scarf for a slightly more stylish look. Black shawl.
6. This clutch is perfect for stashing your lipstick, phone, keys, even a flask, if it's not an open bar. (It's ok, I won't tell.) The print adds a touch of interest without competing and the bag holds a lot without being cumbersome. Foldover clutch.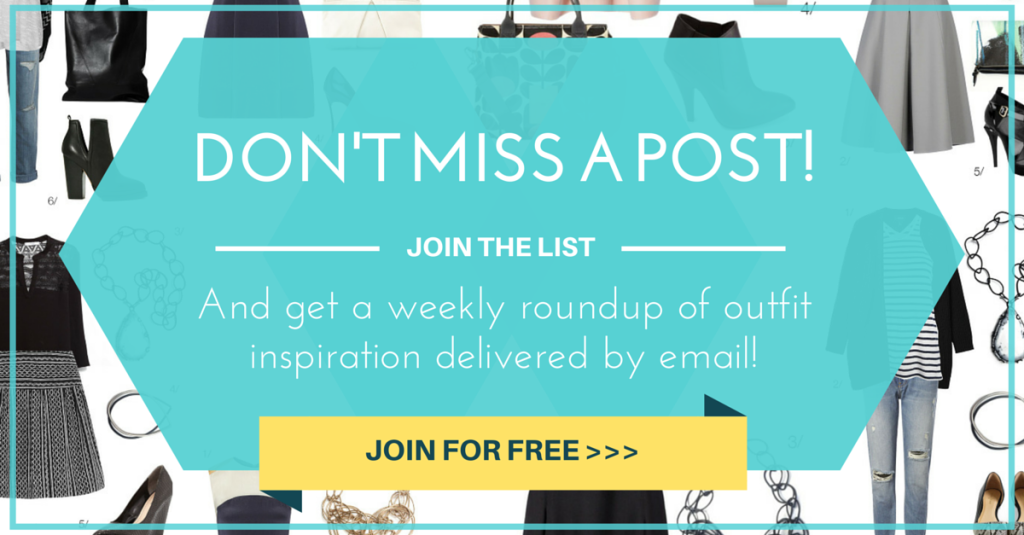 Never miss a post! Get a weekly roundup full of style tips and outfit inspiration delivered by email! Click here to join!