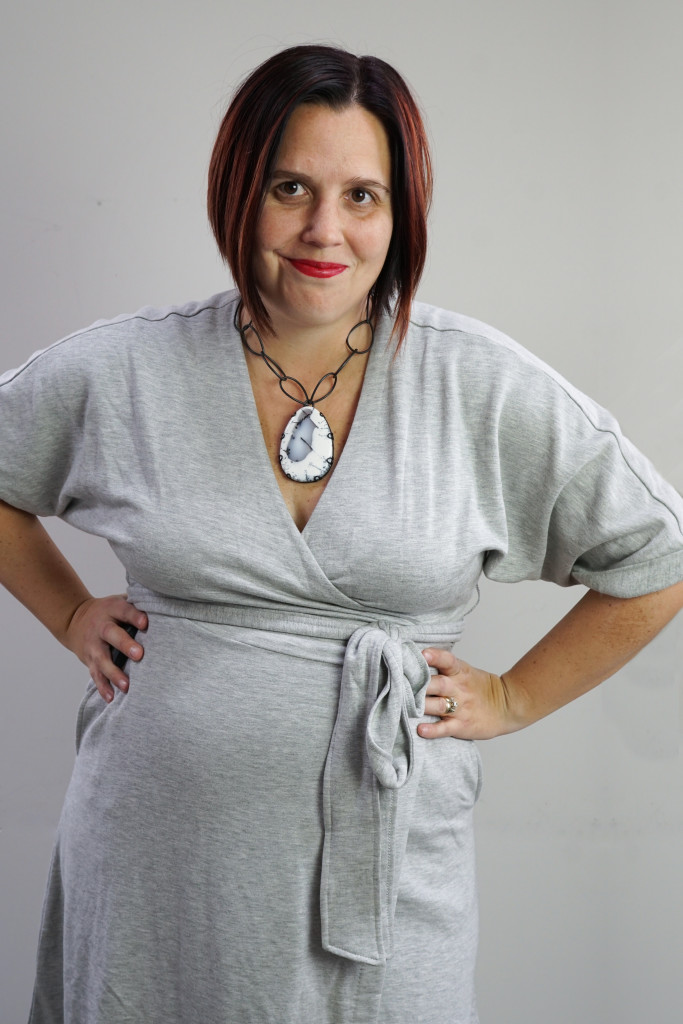 Last week, I purchased a grey sweatshirt wrap dress online on a whim. I don't normally wear wrap dresses, because despite every piece of advice you've ever read about them being universally flattering, they generally don't look good on me, thanks to my broad shoulders and wide-set boobs.
(To be clear, when I talk about having broad shoulders and wide boobs, I'm not making a judgement about my body, just stating facts. Plus, I actually like how my broad shoulders make me feel strong and I love how my smallish, wide-set boobs give me ample chest real estate to rock a statement necklace. It's just that wrap dresses, in general, accentuate those two traits on me in a way that is awkward rather than awesome.)
Still, I really wanted to like this dress. It's cozy and warm and crazy comfortable and it has pockets! Pretty much everything you dream about in a dress. (Especially in the winter.)
But on its own, it pretty much confirmed my suspicions about the way I look in wrap dresses. It's just kind of a grey mass that doesn't do great things for my shape.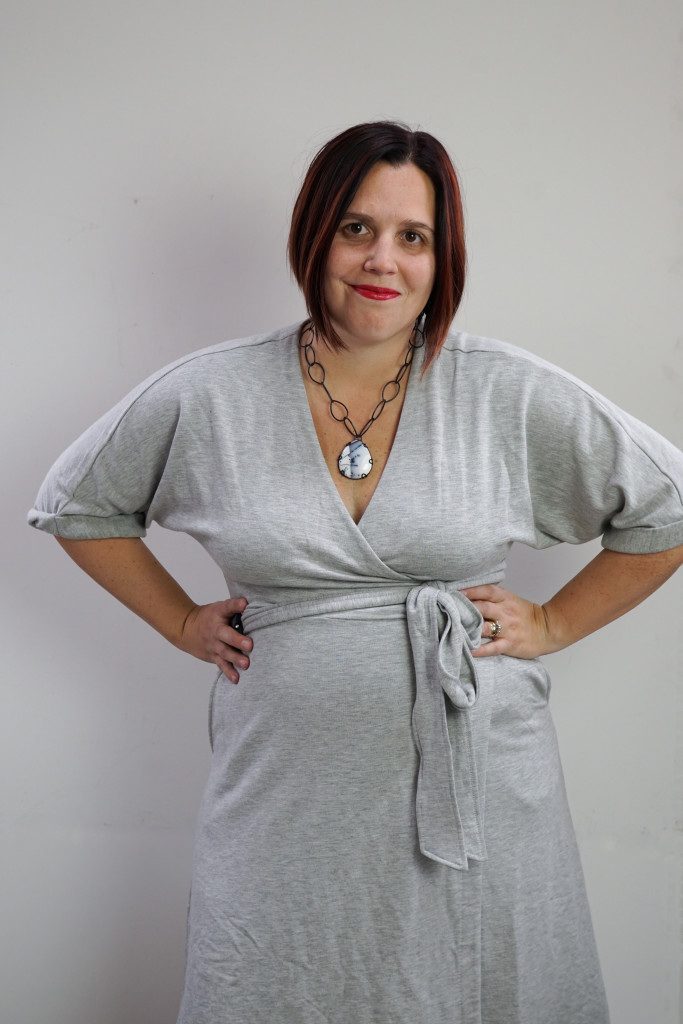 But I'm not one to give up so easily. (Especially on a dress this cozy.) While the dress on its own isn't the best for me, I think this is a problem that can be solved by styling. (Rather than the alternative, which is simply to return the dress.)
So I'm giving myself a challenge. Over the next thirty days, I'm going to come up with thirty different ways to style this dress. My goal is to come up with ways to wear this dress that take it from kind of blah to totally badass and fun.
And I want to be clear about something. This challenge has nothing to do with editing or having a capsule wardrobe. Nor is it about styling a uniform. (Neither of those is really my jam.)
Instead, this challenge is about creative style with constraints.
And to that end, I'm giving myself two more constraints for this challenge.
The first is that I'll be sticking to only two pairs of shoes. This is partly to simplify things, and partly because these heeled boots make the dress look so badass that I can't imagine needing to wear other shoes. (Though I'm giving myself a second pair of shoes, flat black ankle boots, in case I need something a little more practical.) Keeping myself to two pairs of shoes also means I don't necessarily have to shoot each look from head to toe on a specific day if I don't feel like it, which makes photographing each look easier.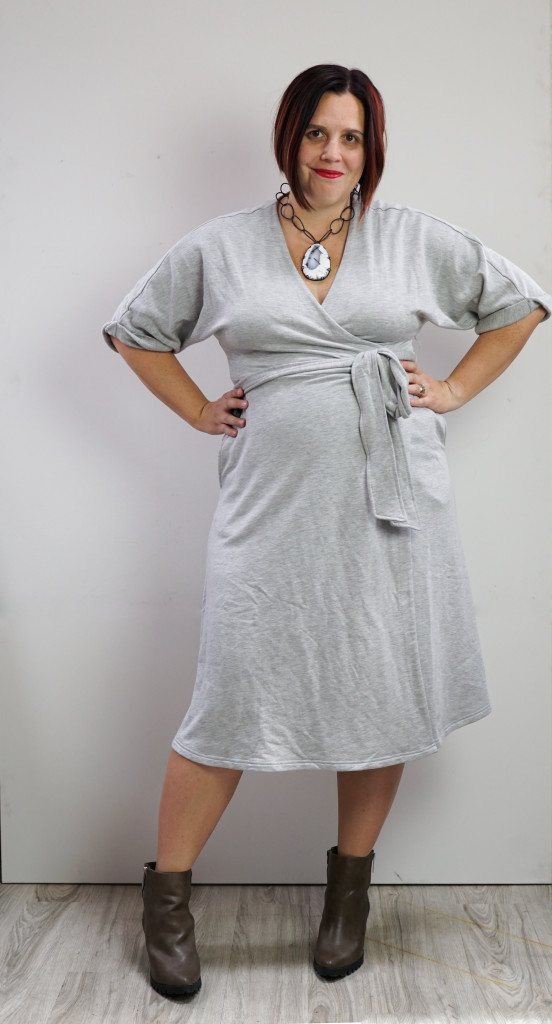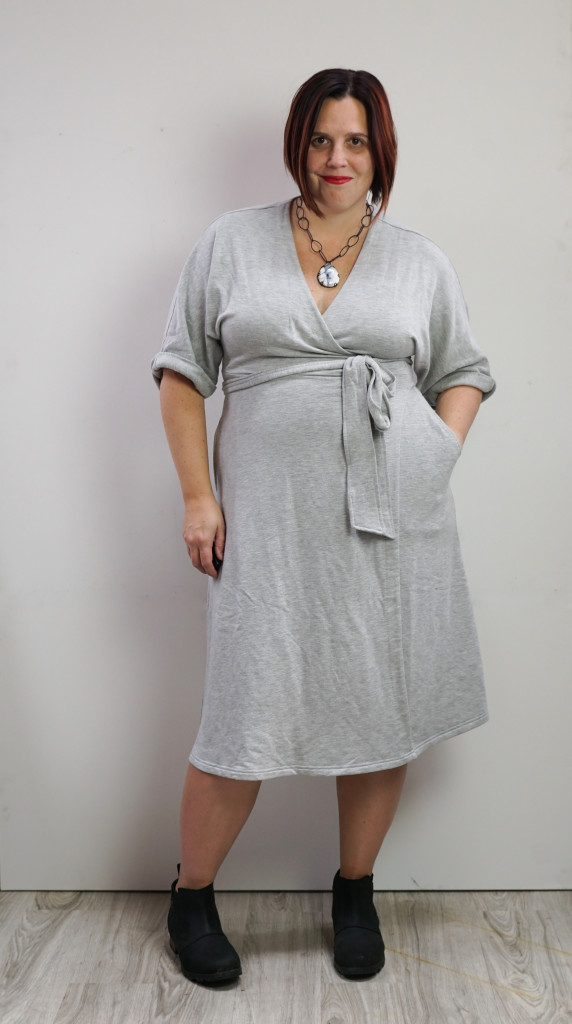 The next constraint is even more shocking: I'm going to limit myself to only two necklaces.
As a jewelry designer, it would be so easy for me to style a different necklace every single day. But I realize this isn't realistic for most people, and since I really want to use this challenge to inspire others to be more creative with their style, I want to recognize that most people don't have an endless supply of jewelry. I also want to acknowledge that my jewelry is an investment type purchase for many people, so I want to help show just how versatile each piece really is.
For this challenge, I've actually chosen two similar necklaces that mostly vary in scale: a bold Contra necklace for when I want something big and badass and a smaller Contra necklace that's ideal for every day. I've chosen two necklaces that are pretty similar because this large pendant style is actually most flattering on me (thanks to aforementioned broad shoulders and wide-set boobs) and because the neckline of the dress frames these style necklaces so well.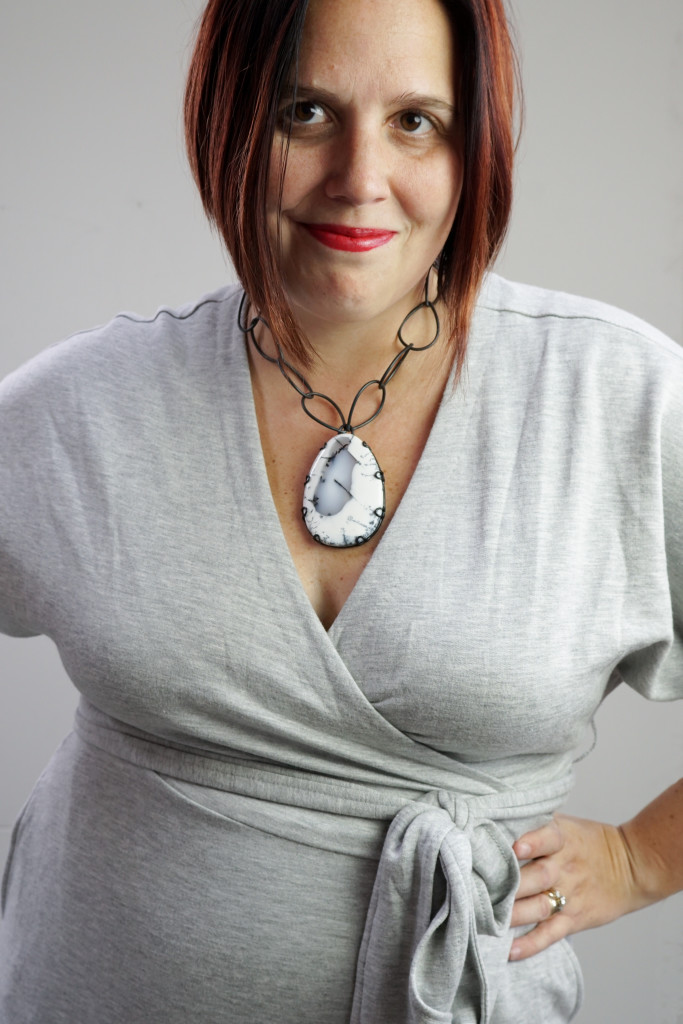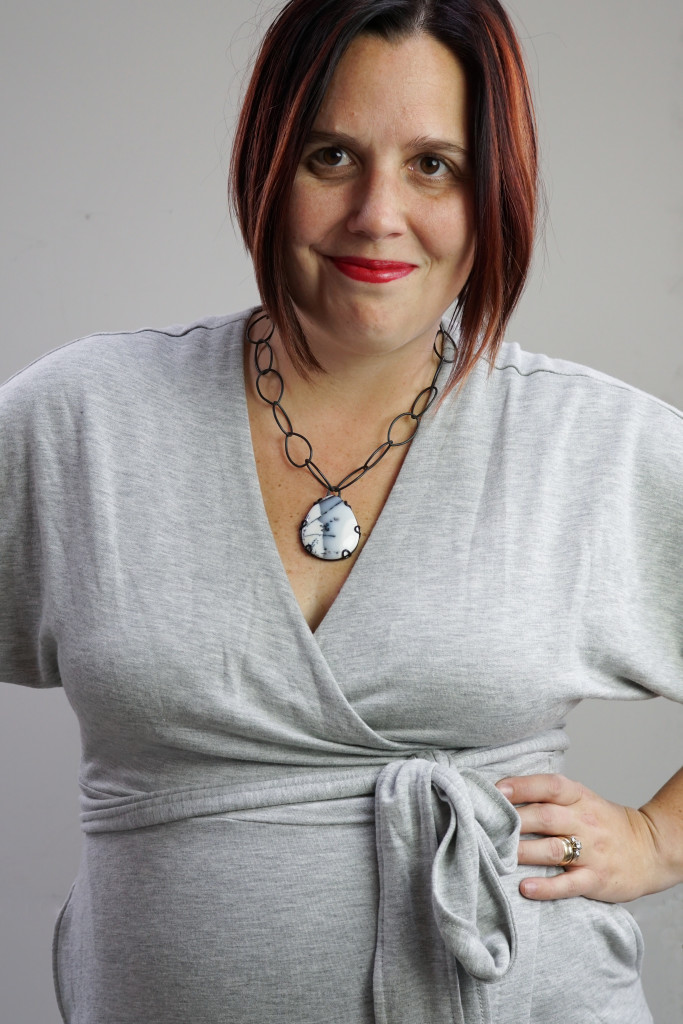 I will also give myself the option of varying the length of either necklace with chain extenders.
Finally, I'm giving myself one more sort of rule for this project. I'm going to try and stick to styling the dress only with clothes I already have in my wardrobe. As I mentioned before, this isn't about a capsule wardrobe (my closet is pretty extensive) but I like how it gives me one more constraint to force my creativity.
That said, I do love to shop. And if I happen to be out and find something that I think will be fabulous with the dress, I won't stop myself from buying it. I'm just not going to go out actively looking for new clothes to complete the challenge.
And back to the challenge. I know with all these constraints, it might be hard to image how I'll manage to get thirty different (and interesting) looks out of a single grey dress. (When I told my friend about the idea, she couldn't even imagine it was possible!)
But that's what makes it a challenge!
And without giving too much away, I plan on using all my skills of layering to create thirty distinct looks! (And since it's pretty cold here right now, the idea of layering up this cozy dress sounds pretty perfect.)
You'll just have to tune back in to my blog every day this month to see how they turn out! (I'll kick things off tomorrow by showing the simple look that made me realize I could totally keep this dress!)
PS. I'll be sharing each look on Instagram, so you can follow me there as well to keep tabs on the challenge! I'll also be adding links to each day's look at the bottom of this post! So let the challenge begin!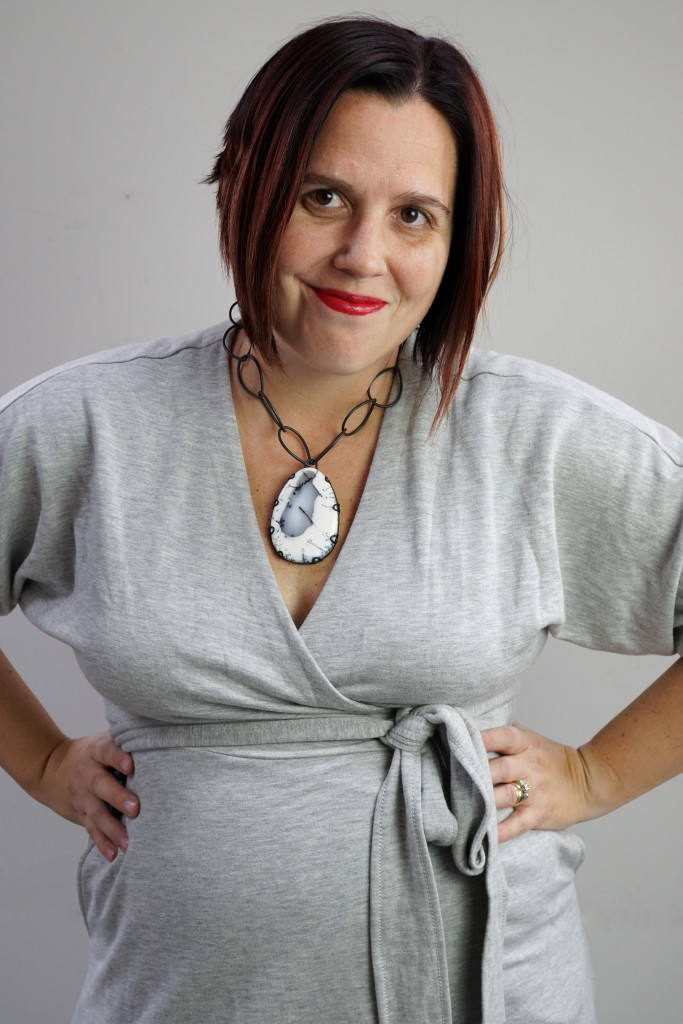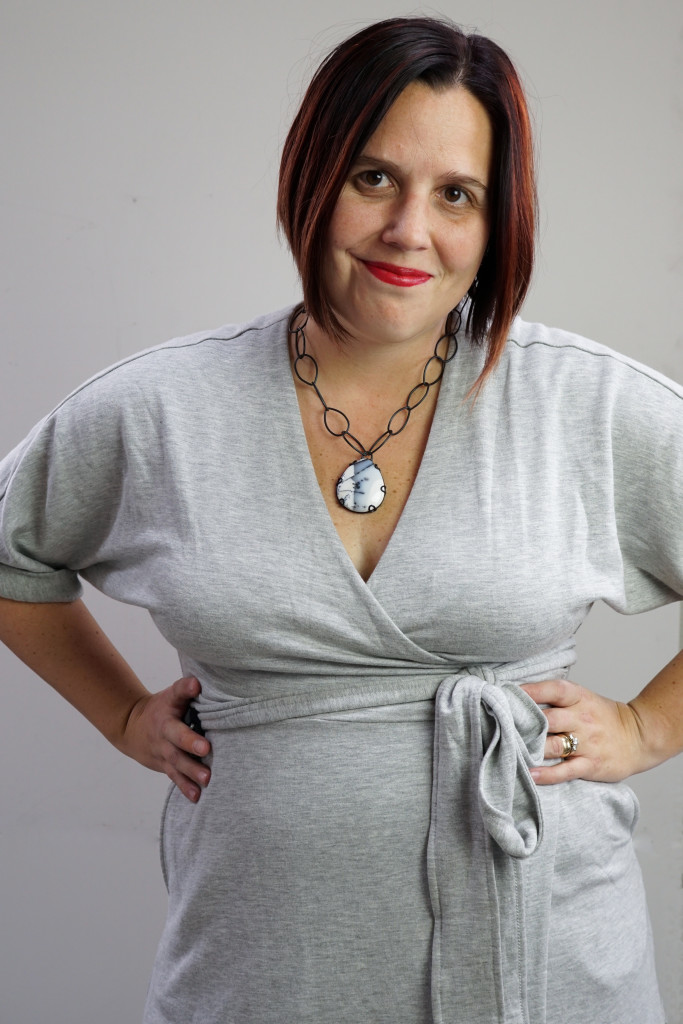 Day 1 / Day 2 / Day 3 / Day 4 / Day 5 / Day 6 / Day 7 / Day 8 / Day 9 / Day 10 / Day 11 / Day 12 / Day 13 / Day 14 / Day 15 / Day 16