One month ago, I gave myself a challenge. Take this lackluster wrap dress (that I wanted to keep because it was super cozy) and come up with 30 creative ways to wear it.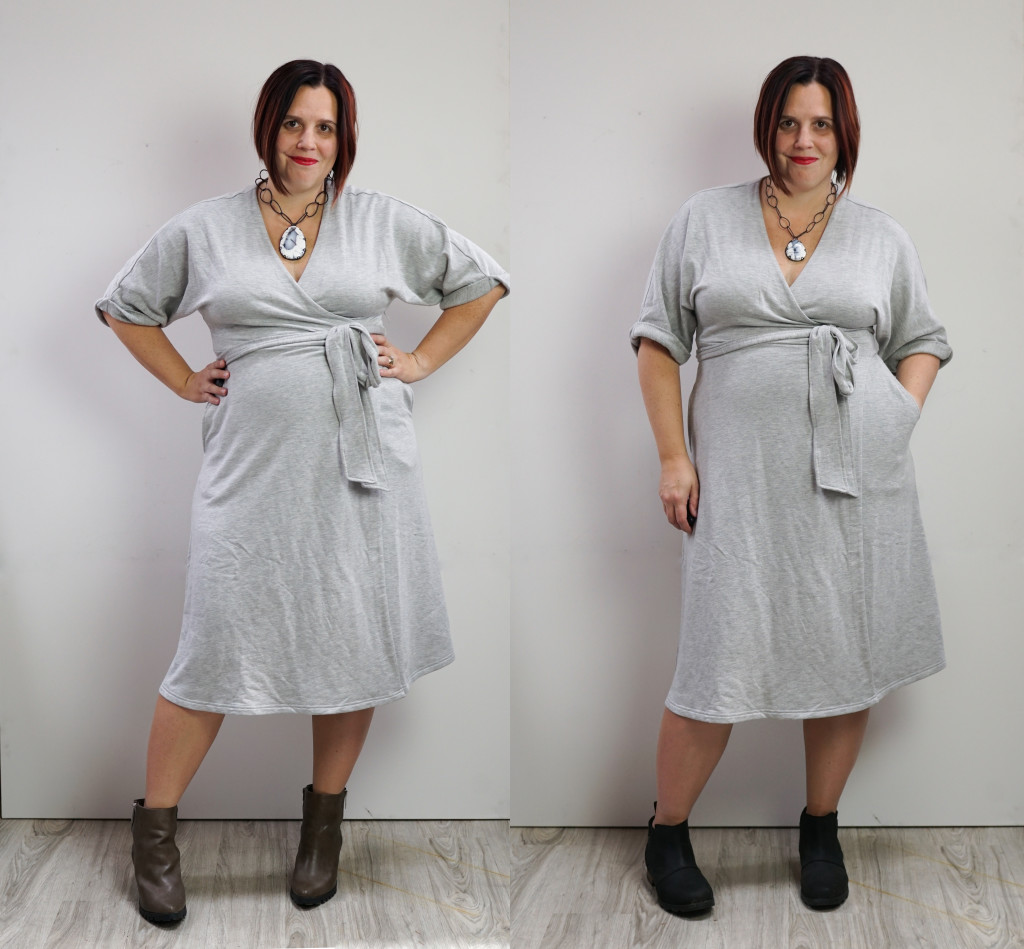 And because I really like creativity within constraints, I gave myself a few other rules as well: I could only style the dress with pieces I already owned. I could only choose between two pairs of shoes. (Though in the end I pretty much wore the same pair every day, because that's what happens when you find a pair of shoes you love.) And I could only wear two different necklaces. (Because as a jewelry designer, it would have been too easy to just go crazy in the jewelry department. But I wanted to show how you could make one or two investment pieces work with your whole wardrobe.)
So how did it go?
Well, I stuck with it, and as you can see, I really did come up with 30 fairly different ways to wear this dress!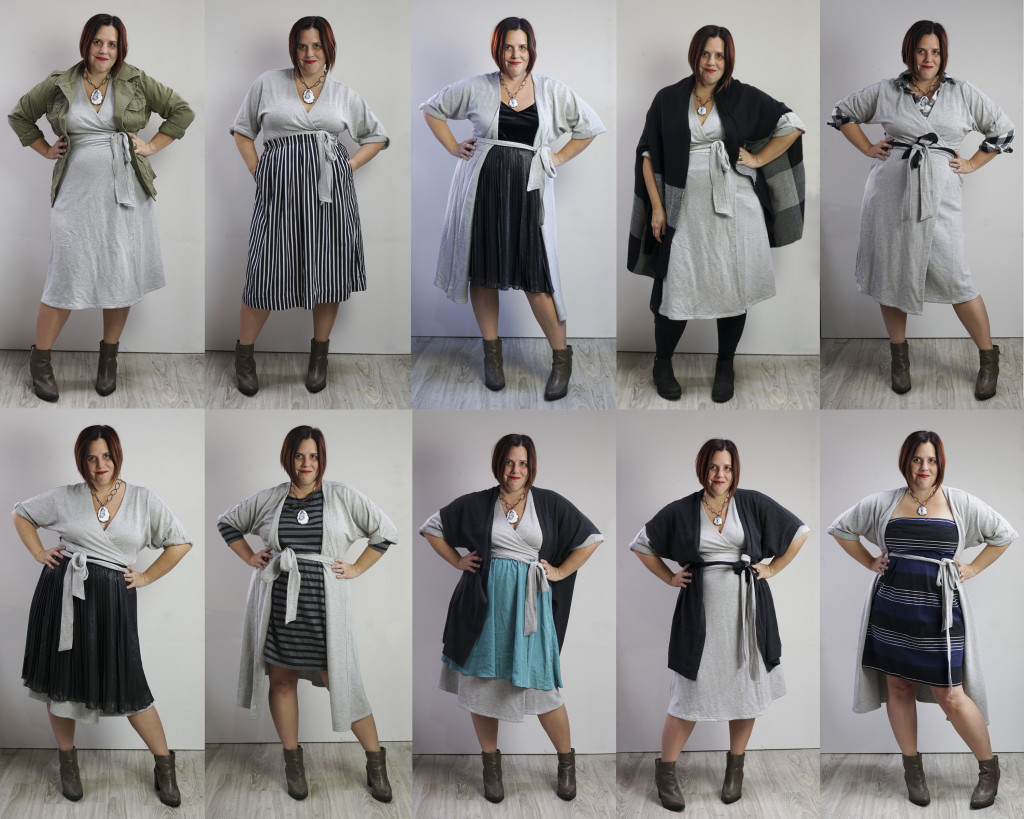 Day 1 / Day 2 / Day 3 / Day 4 / Day 5
Day 6 / Day 7 / Day 8 / Day 9 / Day 10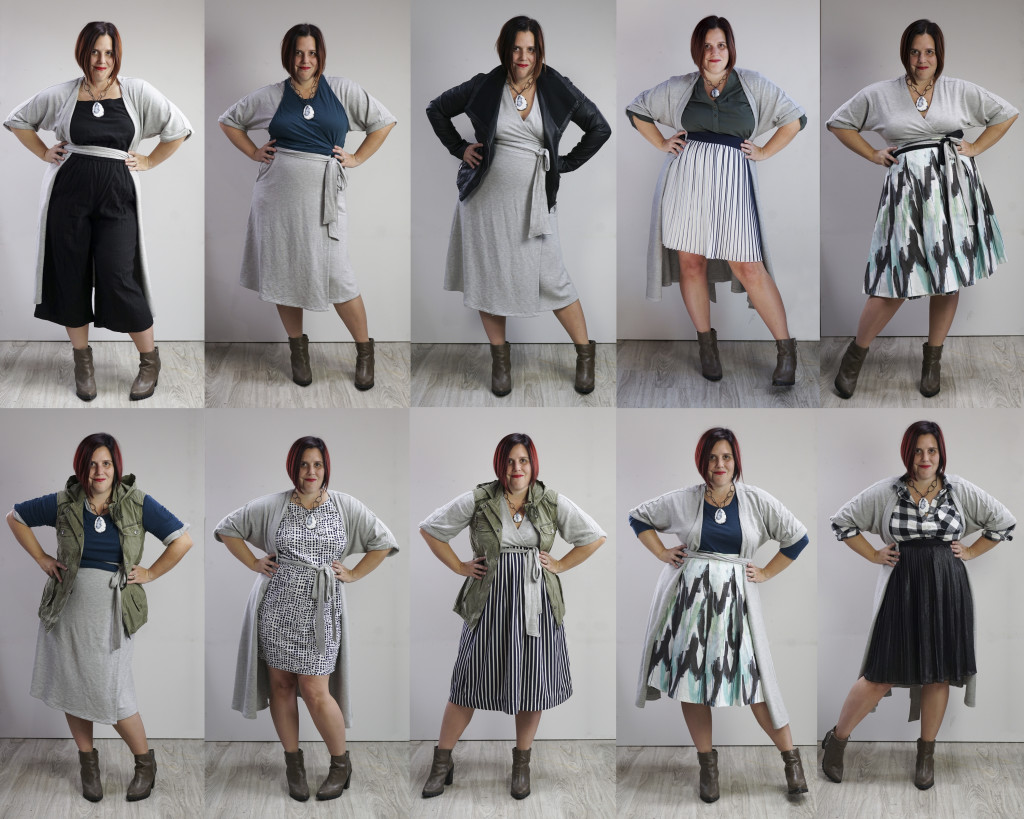 Day 11 / Day 12 / Day 13 / Day 14 / Day 15
Day 16 / Day 17 / Day 18 / Day 19 / Day 20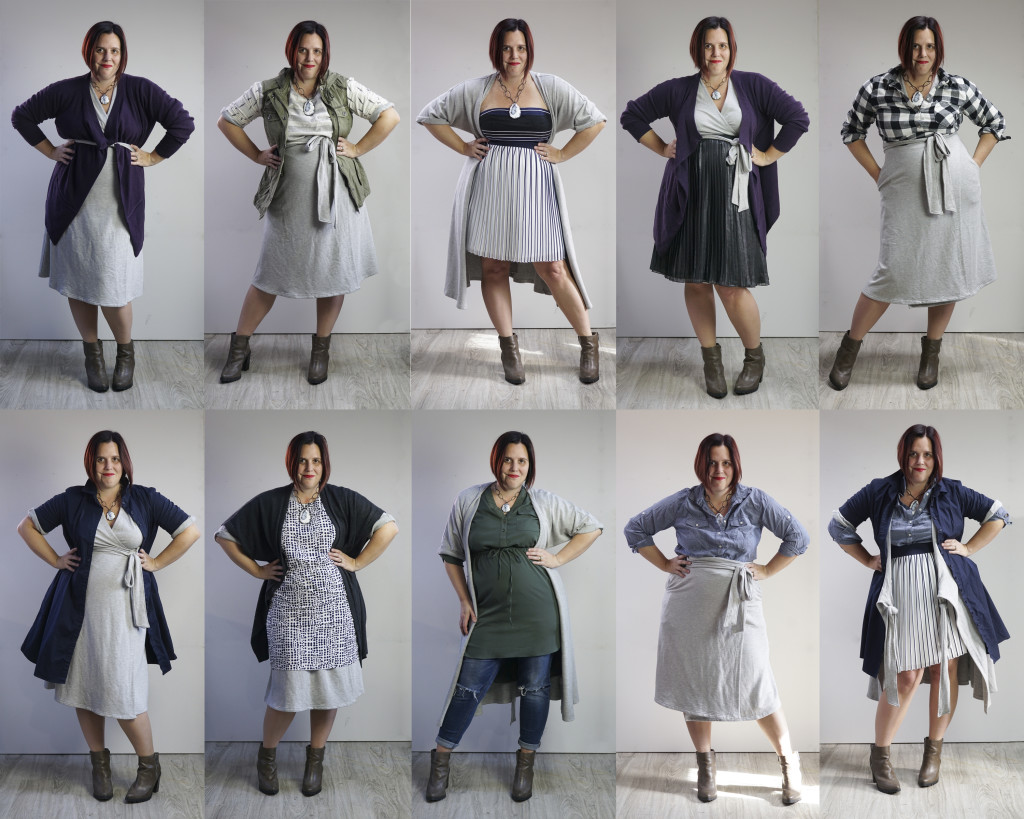 Day 21 / Day 22 / Day 23 / Day 24 / Day 25
Day 26 / Day 27 / Day 28 / Day 29 / Day 30
Having never done any kind of creative style challenge before, I really didn't know what I'd come up with or how I'd feel by the end of it, but I'm so glad I did.
First off, it helped me get excited about what I already have in my closet.
I love to shop, and truthfully, that's never going to change. But spending the last month shopping my own closet reminded me that I have some pretty great pieces already. (And it also reminded me that I've done a pretty great job in the past of finding classic pieces that still work years after I purchased them.) It also forced me to get more creative about how to wear and layer those pieces.
Second, it helped me see what I truly love to wear.
Even though this challenge was about a wrap dress, what I learned is that I really love skirts. A lot. Specifically, I love high waisted midi skirts. (Which is partly due to the fact that the narrowest part of my waist is very high, and it's easier to get a skirt to fall there than pants or a dress, and partly due to my love of style from movies made in the 50s and early 60s!)
Even though I clearly owned a number of these skirts before the challenge started, I hadn't worn many of them often because I tended to just default to wearing jeans. Now, I'll be wearing more of the skirts I already have (especially as the weather warms up), keeping my eye out for other skirts I might want to buy, and even attempting to make a few more skirts in the future.
Third, I learned that you can always push yourself to come up with new ideas.
This challenge was as much an exercise in closet creativity as it was in the fact that I simply didn't want to return the dress (even though I didn't love it on me). And several times throughout the challenge, when I felt like I had exhausted all my options, I was amazed with my own ability to dig deep and come up with new ideas.
Because I did this challenge not only for me, but also to inspire others to bring more creativity into their wardrobes, I plan on putting together another post in the near future that shares some of the key strategies I used to come up with creative combinations. (And I'll share the link here when I do!) I'm also planning a post on suggestions for how to put together your own creative style challenge! (If that's something you're thinking about doing!)
Finally, since I was sharing the posts on social media, it was fascinating to see which outfits other people liked and how that compared to some of my personal favorites.
There were some that seemed to be universally loved (like the wrap dress over the black jumpsuit) and some that I didn't feel were that exciting, but that lots of other people loved (like the wrap dress over jeans). I think the takeaway here is that everyone has their own personal taste, and while it's great to get opinions (and compliments) from other people, it's also totally ok to focus on what makes you feel the best.
Because when you feel great in what you're wearing, that confidence comes through, and then you can literally wear anything you want!
And speaking of what you feel great in, I'm going to wrap up with post by sharing my five favorite looks from the challenge. (Which truthfully, it was actually kind of difficult to narrow it down to five.)
I find it interesting that all of my favorite looks came after Day 10. I think that's a combination of honing in on my own personal style that happened as the challenge went on and on the creativity required to come up with outfits once I got past the obvious solutions.
That makes me really glad I made this a 30 day challenge (instead of something shorter, like 7 or 10 days). Committing to a longer challenge (and pushing myself creatively) was really where the magic happened!
So here they are, my personal five favorite looks from this challenge: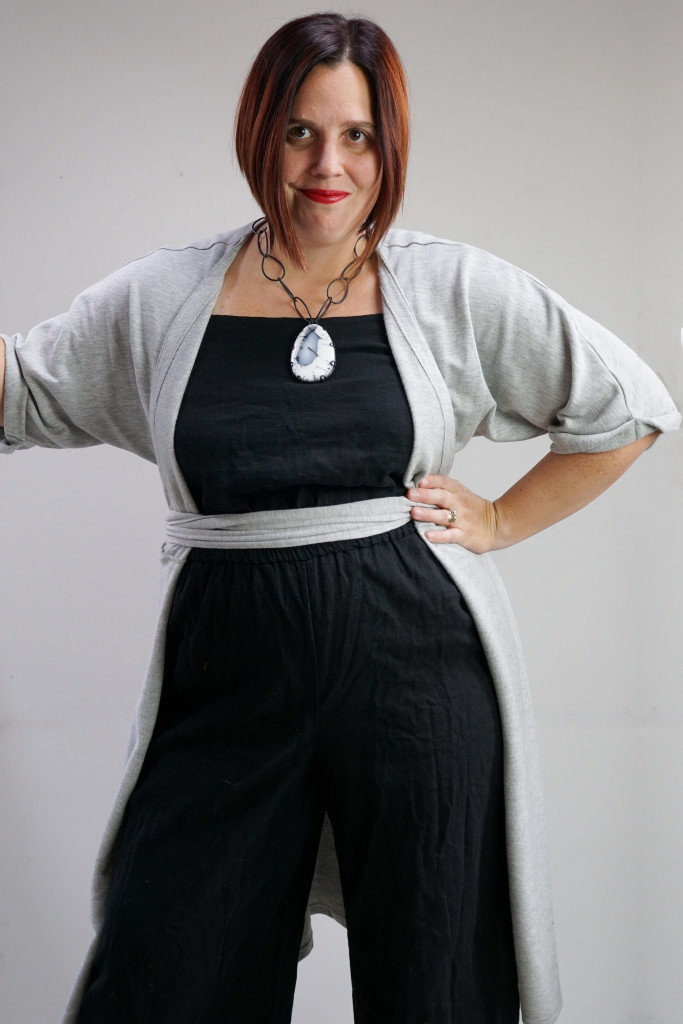 This was one of those outfits that seemed to be universally loved, and for good reason. It's such a bold high contrast look that feels nothing like the (kind of frumpy) wrap dress on it's own. But most importantly, this outfit made me feel like such a badass. If I ever have to fight crime (on a crime fighting comedy show, I don't do drama) this is what I'll be wearing!
If there were an award for best use of color, it would go to this outfit. I've always loved the color teal on me, but I happened to choose this outfit right after I'd gotten my hair color redone. (To a much more virbrant red.) Throw in the military vest and it's a color palette I want to wear again and again.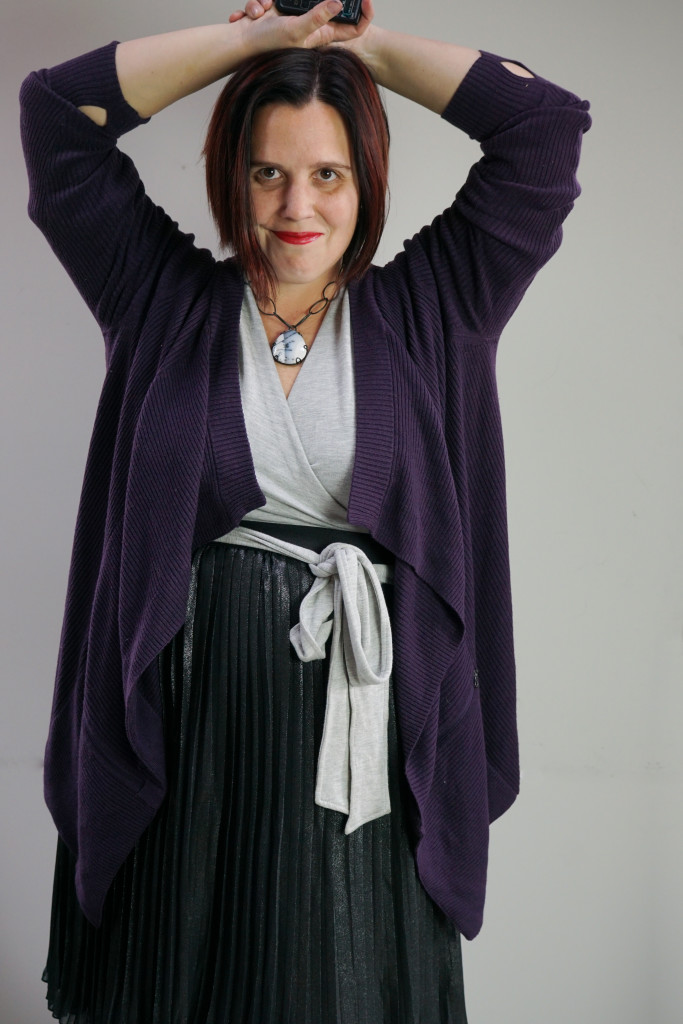 And speaking of color, this outfit was a do-over on the first time I wore this purple cardigan with the dress. I really loved the grey/purple color combo, but didn't like the styling the first time around. Adding the black pleated skirt gave the look a better shape, and I love how the cardigan and wrap dress help make a fancy party skirt work now that the holidays are over.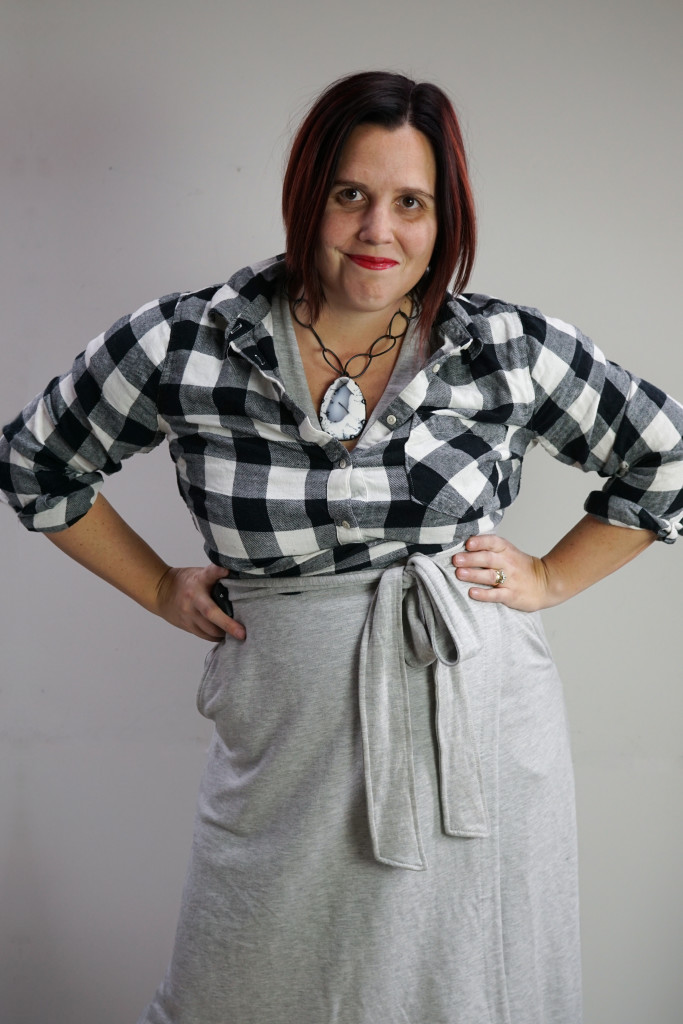 I wore this plaid shirt three different times in this challenge, but this was by far my favorite. I love the bold black and white pattern, and I love how essentially using the dress as a high waisted skirts gives this look a really classic vibe. It's one of those outfits that let me pretend I was staring in a classic Hollywood movie.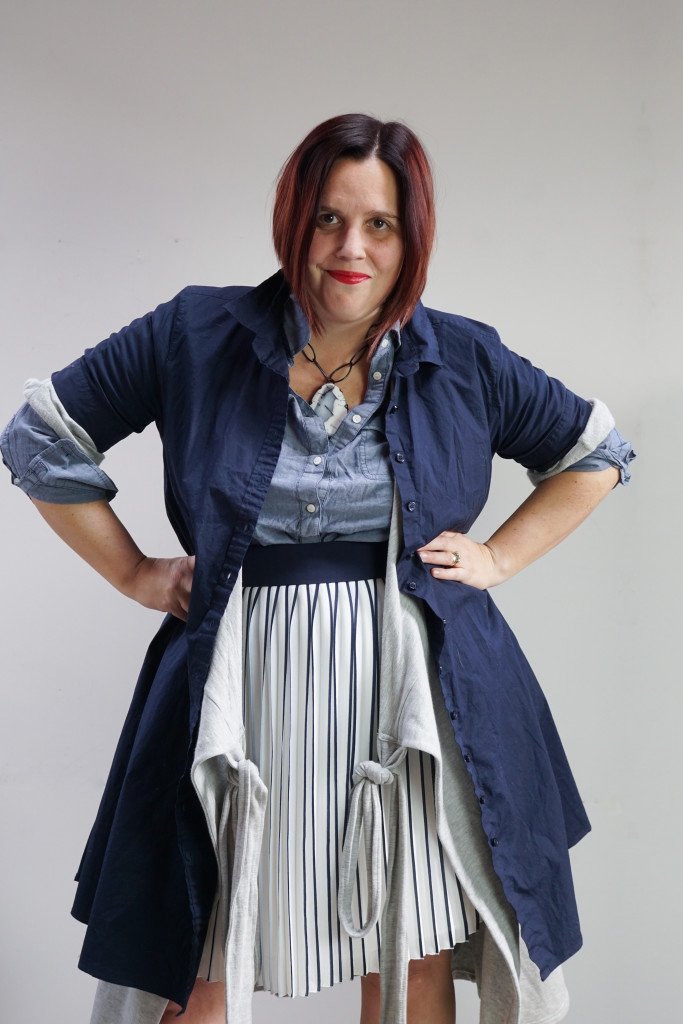 Truthfully, any of the looks I created with this pleated skirt could have made the top five, because I absolutely love this skirt. But I choose this one because all those layers just make me feel like a creative badass, and it feels like the perfect summation of the challenge! (And, I love the four pieces that make up with look so much, I've got a few more ideas for what to do with them! But that will have to wait until a future post!)
Well there you have it! One dress, thirty days, thirty ways, and endless style inspiration! I'd love to know, which looks were your favorite? And are there any ideas you're thinking of trying with your own style?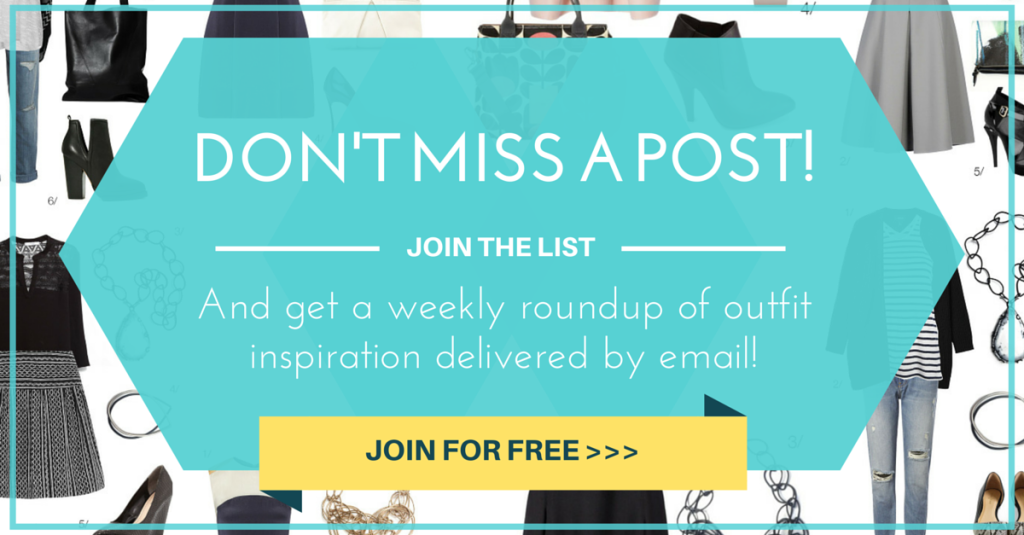 Never miss a post! Get a weekly roundup full of style tips and outfit inspiration delivered by email! Click here to join!