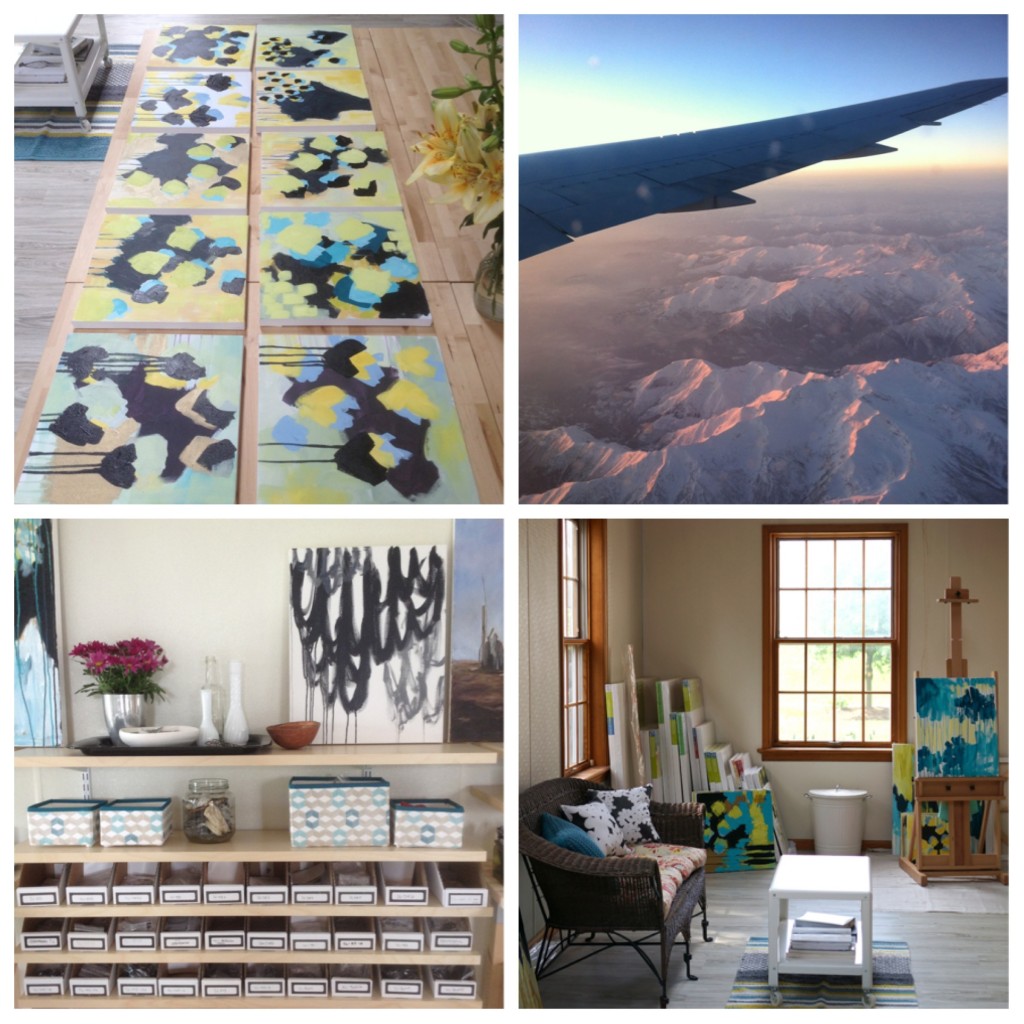 I can't believe we're at the mid-point of 2013 already! It feels like the year is flying by! (Though when I look back at the year, it does seem like a lot has happened.)
Since we're halfway through the year, it seems like a good time to take a look at the goals I set in 2013.
Goal: Create a hundred paintings.
Status: 46 down, 54 to go!
I'm just about halfway through my hundred paintings, so I'm feeling right on track. Painting has definitely been my favorite way to spend my time this year, and I love having this goal to make me feel good about doing so. I've also taken a big step towards my bigger goal around painting and opened my online painting shop! I won't go into more detail here, since I've been logging all my paintings here on the blog.
Goal: Hit $200k in my business.
Status: Almost halfway there!
After crunching my numbers last week, I learned that I'm just shy of being halfway to $200k, which feels about right. Anyone who makes a product knows that the last part of the year tends to be the busiest, and I've also got lots of launches in the works for the end of the year. Despite this being a goal, making money hasn't been a consistent focus for me this year. Fortunately, I've built my business as a strong engine that keeps on churning, which allows me to focus on work that I love (and ideally just let the money follow).
Goal: Visit four new countries.
Status: DONE!
This goal was by far the easiest to check off my list (or perhaps just the fastest) thanks to my trip to Europe in March. I flew into Milan, took the overnight train to Vienna, headed to Munich (by way of Salzburg), and then took the train up to Prague before flying home. That's my first time in Italy, Austria, Germany, and the Czech Republic, for those keeping score. It was an incredible trip, far beyond just checking countries off my list. I got to see some things I've always dreamed about (like Da Vinci's Last Supper) and fell in love with Austria in general and Vienna in particular.
If I can manage it, I'd still like to add one more country to my list this year, but that remains to be seen. For now, I'm savoring the memories of an incredible trip earlier in the year.
Goal: Bike a century.
Status: Not so much.
Sometimes, you just have to let some goals go. At the start of the year, I thought I'd log lots of miles on my bike. But strangely, as the weather warmed up, my desire to bike didn't follow. So I shifted to running, with thoughts of changing this goal to running a half marathon. (I'm signed up for one in October.) Unfortunately, I've been nursing a nagging pain in my hip since this fall, and I aggravated it a few weeks ago and haven't run much since.
So it looks like an endurance even isn't in the cards for me this year, and I'm ok with that. I'm letting go of any major fitness goal, and instead, I'm going to just focus on general fitness by getting in a few days of exercise every week. I know that staying in shape and taking care of myself is important, but it's not my focus this year, which means it's no longer worthy of a major goal.
Not an official goal, but worth mentioning: Finish the new studio!
Status: Done(ish)!
One major project that I took on this year (but didn't make into a formal goal) was getting the new studio finished! And for all intents and purposes, it's done! (I'm still moving and settling in, but we all know that usually takes a little time!) Finishing the studio became a major project for me when I realized that I felt stuck between two studios, and it was dampening my creative energy. I've never had a space to work in that I love as much as my new studio, and I have to say it may be my biggest accomplishment this year.
So that's how 2013 wraps up so far. My plan for the rest of the year is pretty simple – keep painting, launch a series of e-courses (including this one), keep the jewelry biz coming, and hopefully sneak in a little more travel. Oh, and I've got a house to renovate, now that the studio is done!
It looks like it's going to be a busy rest of 2013, and that's exactly how I like it!