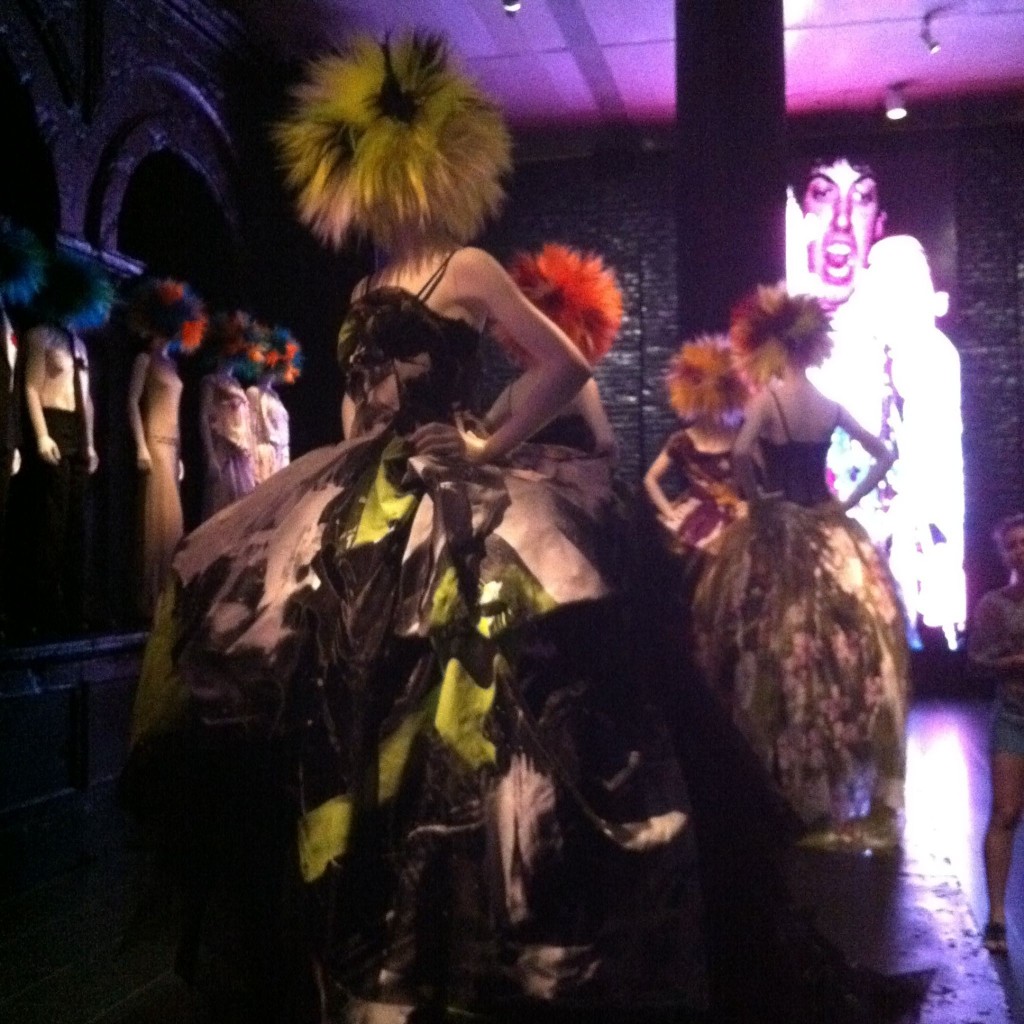 Earlier this week, I spent a few days in New York City. I wanted to walk ICFF, the National Stationery Show, and Surtex. There were a few exhibitions I wanted to see as well, and since a couple of them were closing soon, I decided to stay in the city for two nights and cross everything off my to-do list.
There's something about visiting New York that always feeds my soul and clears my head. And this trip was no exception. I spent the bus ride home dreaming of new ideas and completely excited to get to work. I feel energized and refreshed and confident about a new direction for my work that's going to pull together so much of what I do.
I don't have much to say about the trade shows. It was great to catch up with friends at NSS, but otherwise, I wasn't left with the same sense of awe and inspiration I'd felt previously at ICFF. It turns out, this probably had little to do with the show, and much more to do with what I'm excited about right now.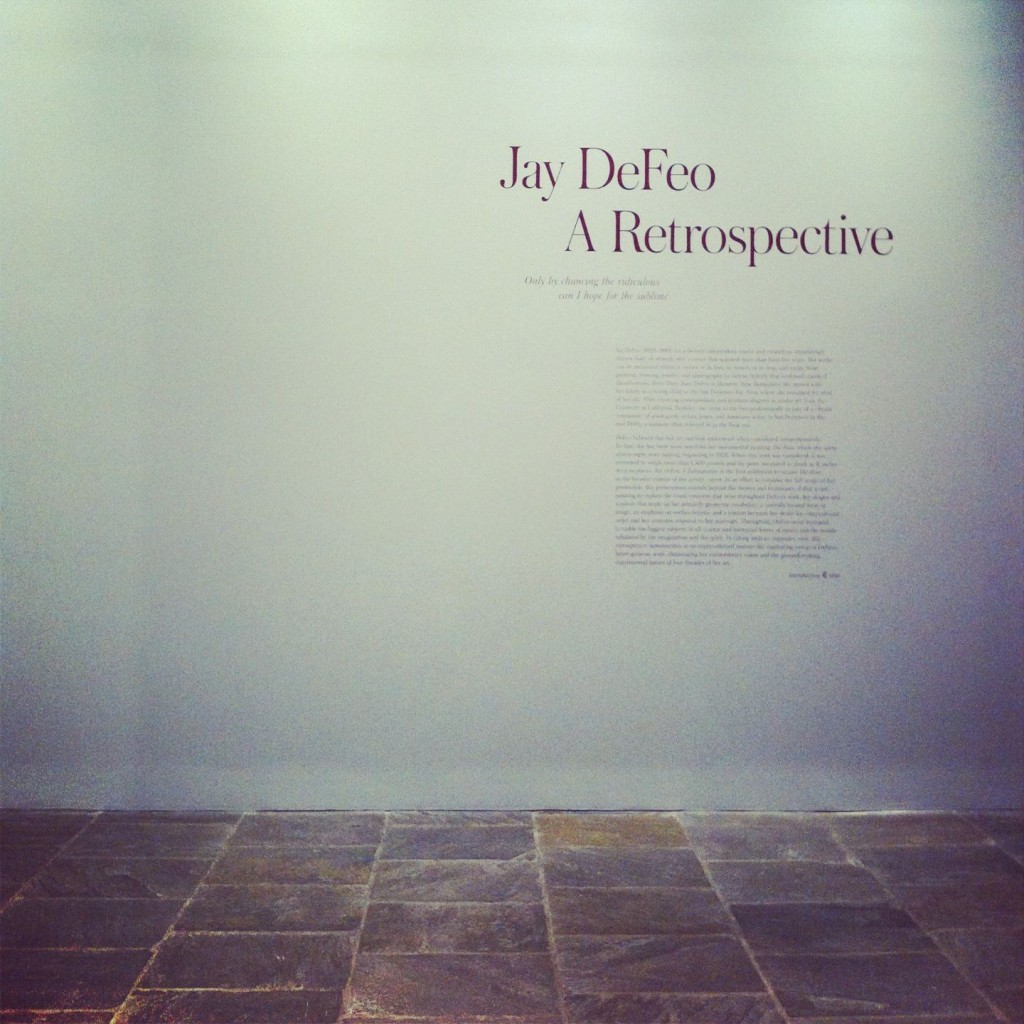 Sunday night, I went to the Whitney to see the Jay DeFeo retrospective. A friend suggested I see it because she said she kept thinking of me the whole time. I could see why. Jay was an incredible abstract painter, but early in her career, she made and sold jewelry to pay the bills. Her jewelry is beautiful – wonderfully playful experiments in line – and her paintings and drawings are pretty incredible.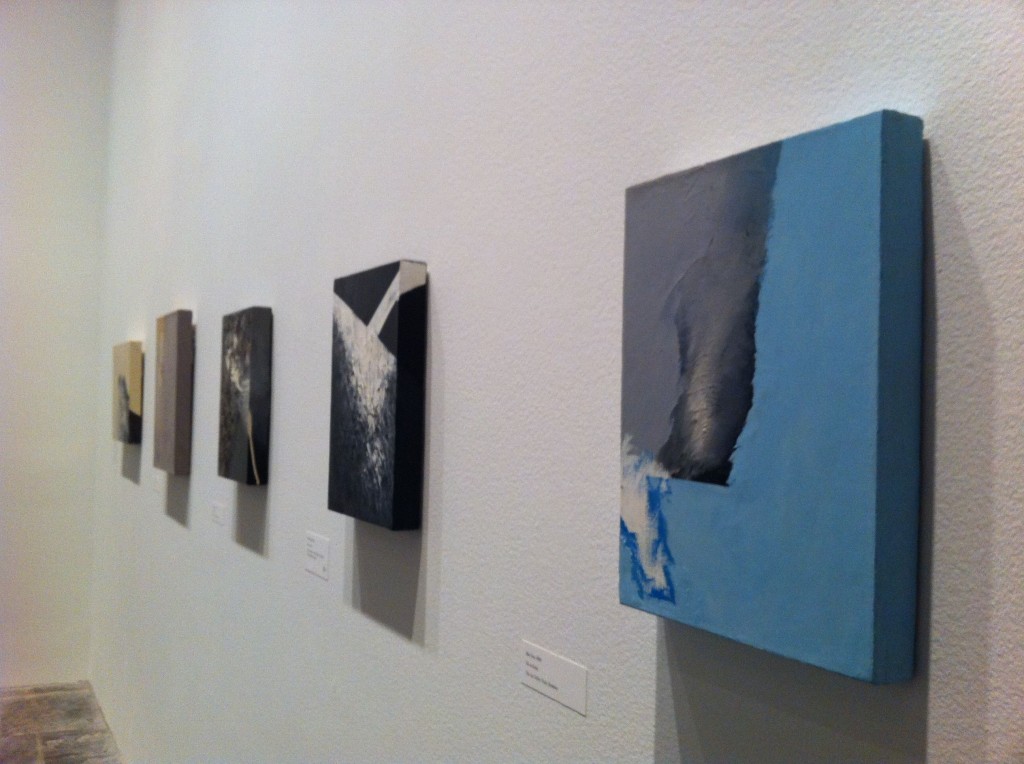 Ever since I started painting again, I've been looking for role models who seamlessly worked across disciplines. Alexander Calder, who made incredible jewelry and a fair amount of painting in addition to his famous mobiles, is one. Jay DeFeo is now another.
On Monday night, I made my usual pilgrimage to Strand. It's really hard for me to not visit this bookstore any time I'm in the city. With almost an entire floor devoted to art and design books (many that are hard to find) I can (and have) spent many hours happily browsing books.
With everything checked off my to-do list, I had all of Tuesday free to visit the Met. There are so many fantastic museums in New York City, but because of the range and scope of their collections, the Met is by far my favorite. Last year I became a member, and that really increased my love for the museum. Instead of trying to see everything in one trip, I can focus on things that excite and interest me on any given day.
My main motivation for going to the Met was to see the exhibition Impressionism, Fashion, and Modernity. I had been excited about it every since I'd heard the concept – Impressionist paintings of clothing displayed right along with actual period clothing. What's not to love? Well…
While the exhibition was solid, it wasn't the spark of inspiration I was hoping for. Most of the paintings came from the three sponsoring museums – the Met, the Musee D'Orsay in Paris, and the Art Institute of Chicago. And since I've been to all three museums (and I've been to the Met and the Art Institute many times) most of the paintings were familiar to me. There were still paintings I loved, but it was nothing new. And the glass cases and nondescript lighting made it hard to really absorb the period clothing. Add in the fact that I was not crazy about the design of the exhibition catalog (not that it stopped me from buying one) and I was a little underwhelmed.
But luckily, the spark I had been hoping for was still to come.
In the next gallery was the Met's annual Costume Institute exhibition, Punk: Chaos to Couture. The exhibition was typical of the Met's fashion exhibitions – dramatic lighting and sound, immersive environments, and layers of visual stimulation. (If you saw the Alexander McQueen show, you know what I'm talking about.) While the exhibition as a whole did feel a little derivative of the McQueen exhibition, it was still incredible. The experience of seeing iconic pieces of fashion in person is so much better than seeing them in photographs, and the Met really knows how to put on a show.
The spark for me came in the form of three incredible dresses from the Dolce & Gabbana 2008 line. Three dresses featuring mounds of tulle and voluminous form with energetic strokes of paint as the main surface decoration. PAINTINGS. ON THE DRESSES. Mind. Blown. I wanted to curl up in those dresses. I wanted to study every detail. (And I did as best as I could.) I snapped covert pictures. (Pictures were forbidden.) I got as close as I could. (I'm pretty sure I set off the alarm like eight times, but since the exhibition was filled with loud music, I pretended not to notice.) I did the best I could to imprint those dresses on my memory.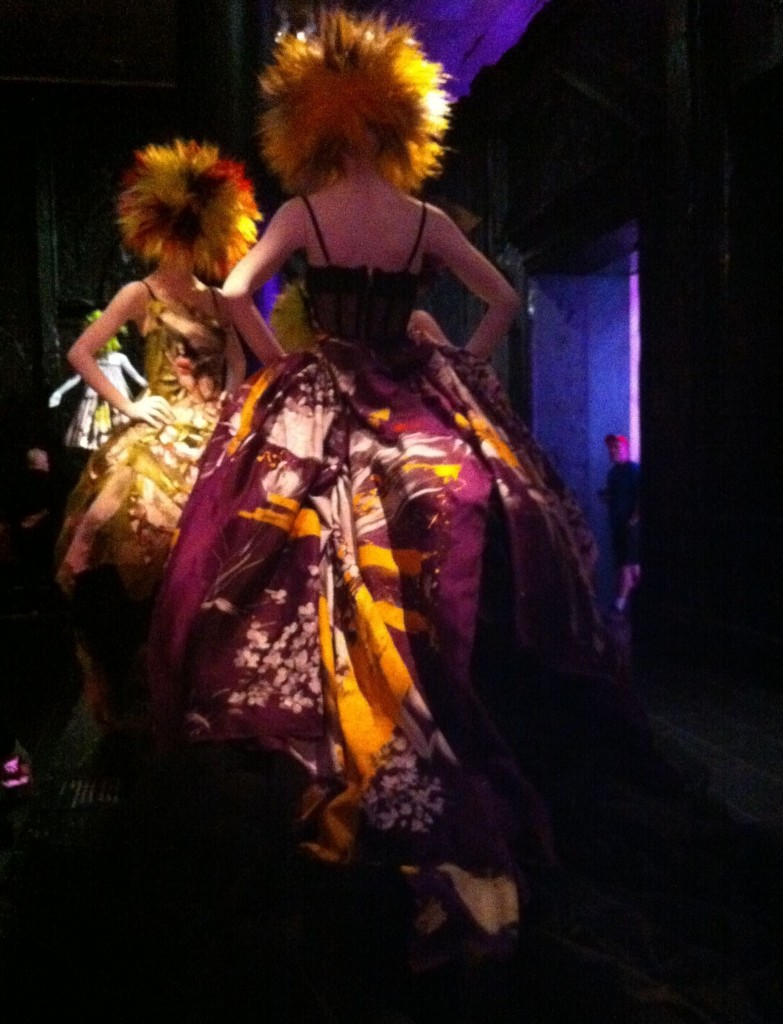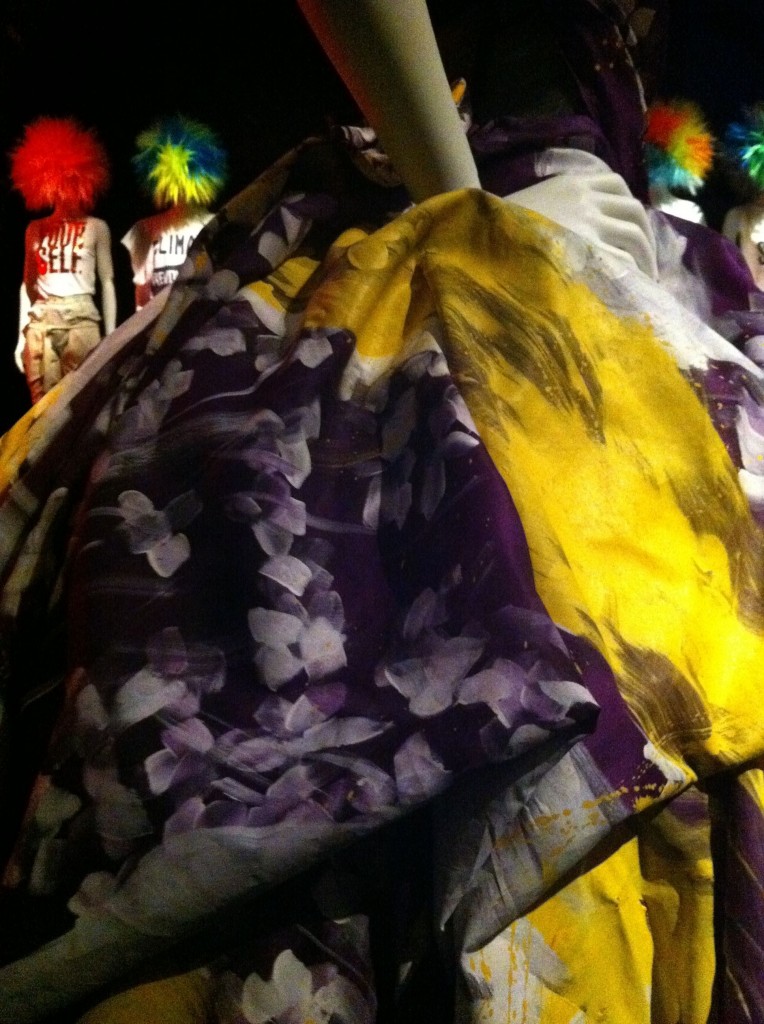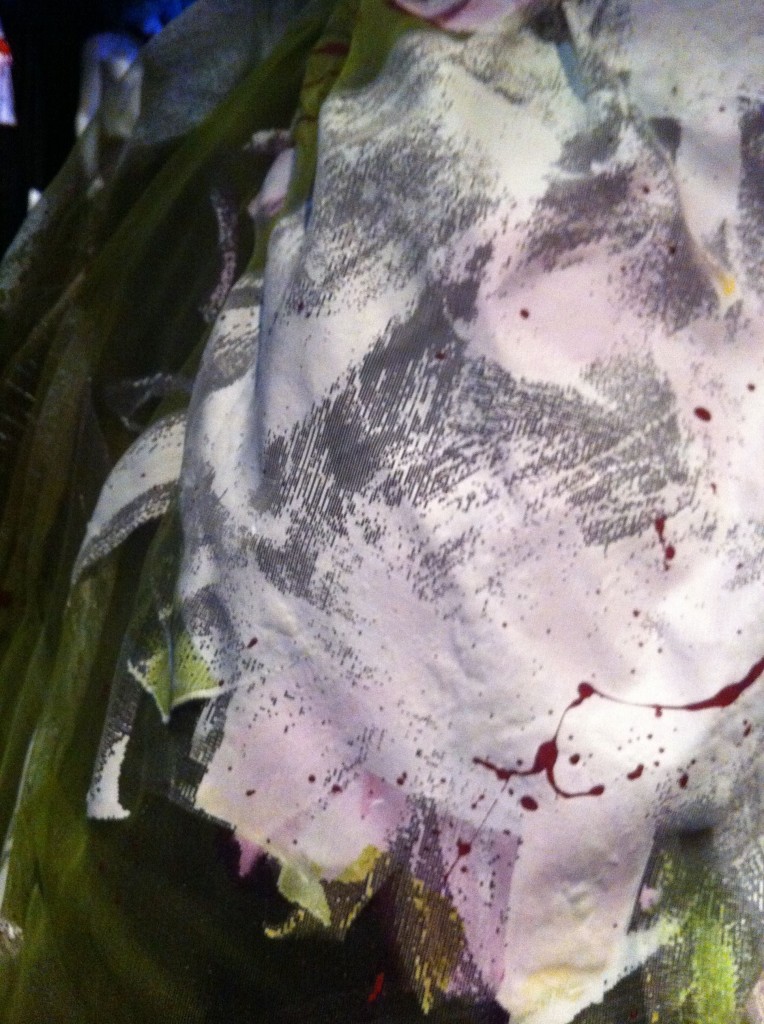 And then I walked around the museum, let things percolate, and got on a bus home.
I remember hearing someone once say about Alexander McQueen that the greatest artist in a generation just happened to be a fashion designer. But is that really a coincidence? Is it possible that the most conceptual, the most interesting, the most exciting art that is happening in our world right now is coming from fashion? After looking at some contemporary painting at the Met, and the best of furniture and home design at ICFF, I can't help but think the answer to my question is yes. That the most interesting art being made right now could be coming from fashion. Not the boring stuff we see in stores and wear everyday. But the incredible couture pieces designed for runway shows that play with form and color and materials and push boundaries.
Fashion has always been a major inspiration for me, and now I'm ready to embrace that in my work even more. I've got plans and ideas and a stack of books and a pile of supplies and I am ready. To get. To work. It's going to be a summer of crazy creativity and art making and I am so ready for it. Let's go!
Oh, and thank you, New York. Once again, you gave me exactly what I needed.