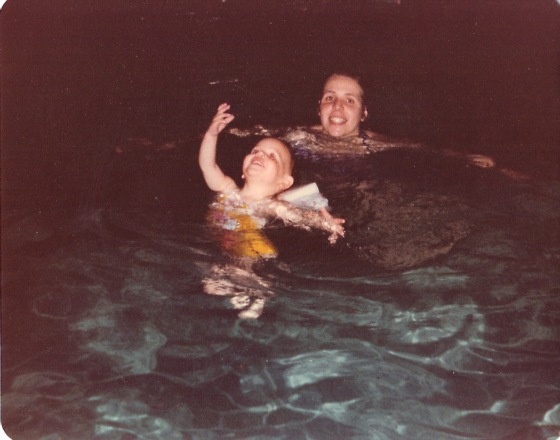 Exactly two months ago, my mom passed away after a 2 1/2 year battle with ovarian cancer. Two months feels like an eternity and an instant at the same time. I haven't spoken much about my mother's death online for a million reasons, but with Mother's Day this weekend, it seems only appropriate to share.
These are the words I spoke at her funeral:
Today I'm here not to say goodbye to an amazing and inspiring woman, but to say thank you.
The older I get, the more I realize what an amazing gift it is to have parents who believe you can be anything you want to be. And not only did my mom believe that, but she made sure that Melissa, Timmy, Jordan, and I had every opportunity we could to become whatever we wanted to be.
Growing up, my mom took us to everything. Swimming. Gymnastics and dance. (Even the boys.) Sports. Games, practices, meets. She even occasionally let me skip school to go to painting class with her. She always put our interests, hopes, and dreams before her own.
And it wasn't just us. I can't tell you how many other kids my mom drove to and from practices and events, because she believed that every kid needed love, support, and encouragement.
And it didn't stop when we grew up. A few years ago when I had a stress fracture in my foot, my mom drove me to Ohio to help deliver my art to an exhibition. And she drove me to countless shows and sales too.
What amazes me most is how capable my mom was of still pursuing her own life and interests while supporting us kids in a growing list of endeavors.
My Mom's passions were many, and she taught us to love and respect them, but didn't force us into them. As a result, we all developed a diverse group of interests that are distinctly our own, but can all be traced back to our mother.
My mom was equally at home in a museum or a painting studio as she was watching a soccer or basketball game, as comfortable traveling in the city as she was bird watching at the beach.. As a result, she instilled in us the ability to not only adapt to our surroundings, but to fully immerse ourselves in whatever and wherever we were at the moment.
The most important gift my mom gave us was not a love for her many passions, but an glowing a example of the kind of person we should be. My mom was stubborn, direct, passionate, and never afraid to be herself. My mom was the ultimate model of how to be a strong, confident person, and for that I am truly grateful.
And so today, I'm not here to say goodbye to my mon, but thank you. Thank you, mom, for always supporting us, and for being the ultimate model of how to live life. I won't say goodbye, because I know you live on in every person in this room, but especially in Melissa, Timmy, Jordan, and me.